To:

Dr. Petillo and Dr. Cautin
Petition for Queer Equity, Inclusion, and Healing at Sacred Heart University
SG
Campaign created by
SHU G.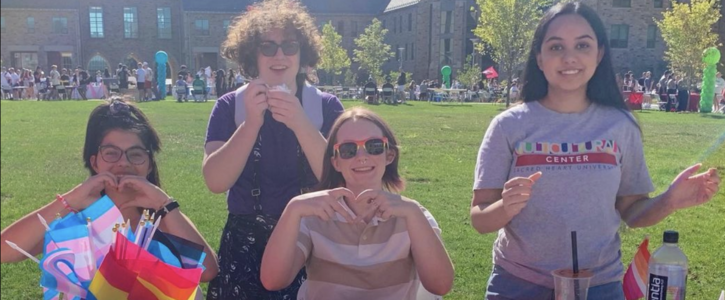 As a cumulative result of years of community discussions, focus groups, and individual feedback, we have translated our community's concerns about systemic harm and invalidation into the 5 proposed solutions below. We, the queer students of this university, urge you to please consider these requests so that the most vulnerable within our community can begin to heal and all Pioneers can feel confident they are in an environment that sincerely upholds their rights, dignity, and protections.
1. Representation of LGBTQ+ experiences on campus is essential. By providing space for consistent GSA representation in leadership, planning, and organizational processes, we can end cycles of uncredited student labor and have our voices included. Furthermore, we must establish written standards for all professionals who choose to align themselves in queer spaces. They must be able to communicate effectively with queer and allied community members who express their concerns, as well as provide the appropriate resources in a timely manner.
2. Policy reform to improve student disciplinary reporting and handling processes so they are more trauma-informed and equitable of unique LGBTQ+ experiences. Many times, our members have shared that they do not report instances of homophobic and transphobic violence on campus because they have not been taken seriously in the past or were victim-blamed for coming forward. Please re-evaluate your current policies through a lens of intersectionality and developing social contexts, our safety depends on it.
3. Publish a map of all-gender restrooms onto the Sacred Heart University website where appropriate, to provide easy and accessible access for all learners, faculty, staff, and visitors to our campus by the end of the Spring 2023 semester.
4. Hire a leader for LGBTQ+ affairs to provide affirming and centralized leadership for the LGBTQ+ community at Sacred Heart University and to lead the SAGE Center as well as other future endeavors. This will not only make prospective queer Pioneers feel more welcome here, but practically support current students, faculty, and staff who would benefit from this clear oversight every day.
5. Share an apology to the LGBTQ+ people who have had their voices dismissed and silenced in the past. Acknowledge those who have been victimized during their time at SHU on the basis of their identity as queer people, and those who have been otherwise mistreated by the Office of Student Life due to their involvement in student advocacy. Once there is an acknowledgment of past harm, we can move into an era of true accountability, mutual collaboration, and restorative justice for everyone. We request this to be done before the end of the Spring 2023 semester.
Why is this important?
All universities should be invested in inclusive growth and uphold promises made to queer folks. As listed above, these are just a few of the many critical solutions necessary to improve the quality of life of all people and move toward accountability for mistakes that have caused significant harm to our community.
We urge you to be bold, embody our university's forward-leading spirit, and take the next steps to create meaningful change. Please consider signing this petition so that SHU can truly become an empowering and supportive environment for all.
Thank you.
With Love & Pride,
The SHU Gender Sexuality Alliance (GSA)