To:

Steve Sisolak, Governor
NV Care 4 Trans Queer Youth: Steve Sisolak
GC

Campaign created by
GSA Network C.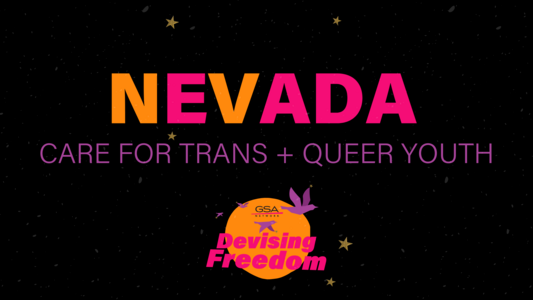 All young people deserve the community and care necessary to grow towards their potential. We look to our guardians to provide for our basic needs; our schools to create opportunities for learning; and, our elected officials to legislate policy that helps to make this possible. Why are we not here yet? Why is this up for debate on the floors of state capitols?
Across the nation, state lawmakers are introducing legislation that directly targets transgender and queer young people. For the last three years, amidst a global pandemic and school closures, more than half of state governments have considered proposals to:
- limit the public restrooms trans people can use
- ban trans athletes from playing sports
- criminalize doctors for providing affirming healthcare to trans patients
- restrict school curriculum from including mention of LGBT people, and more...
Each generation of trans and queer youth has grown up with their existence openly questioned, erased, and punished and in 2022, this continues. It is time for trans and queer youth to grow up with the care and connection that sustains our lives far beyond survival. Trans and queer youth need leaders who commit to honoring every young person's right to life, care, community, and freedom.
Why is this important?
The wave of anti-trans and anti-queer legislation both directly targets TQ youth and strengthens efforts to rollback the rights of all historically marginalized and "othered" communities. We need to not only stop these anti-TQ bills, but transform our culture toward community and collective freedom. State and local organizers have been busy fighting these bills. We're calling on all state residents, community, and allies to #ShowUp4TransYouth and queer youth by demanding politicians end efforts of dividing the people and work toward CARE FOR TRANS AND QUEER YOUTH. 
Is there an upcoming state or local action that we can uplift on this petition?
Contact petition organizers by emailing [email protected] to share upcoming actions, efforts, and updates related to TQ youth devising freedom. Our team will work to include relevant updates to state petitions. You can also check out efforts in other states here.
GSA Network will continue to update state solidarity petitions as bills and resistance movements continue to evolve throughout the next few months. Be sure to share this petition with all TQ youth leaders and allies who are committed to interrupting these ongoing attacks.